Yesterday I practiced some much needed and long overdo earthing/grounding. My attempts at meditation over these past weeks have been frustratingly thwarted and I was becoming stressed by it. Putting my ego in a timeout allowed me to assess where this imbalance has been occurring. Throughout this past week, I've been receiving many synchronicities telling me to get out in nature which finally took me to our local park where I would practice some earthing as a form of grounding. I removed my shoes and socks and began to walk on the hard cold ground. The uncomfortableness of the pebbles beneath my feet reminded me of three things:
1.) That I should do this more often;
2.) Pain and pleasure is where you put your intention; and
3.) Walking barefoot on uncomfortable surfaces forces you in a state of mindfulness.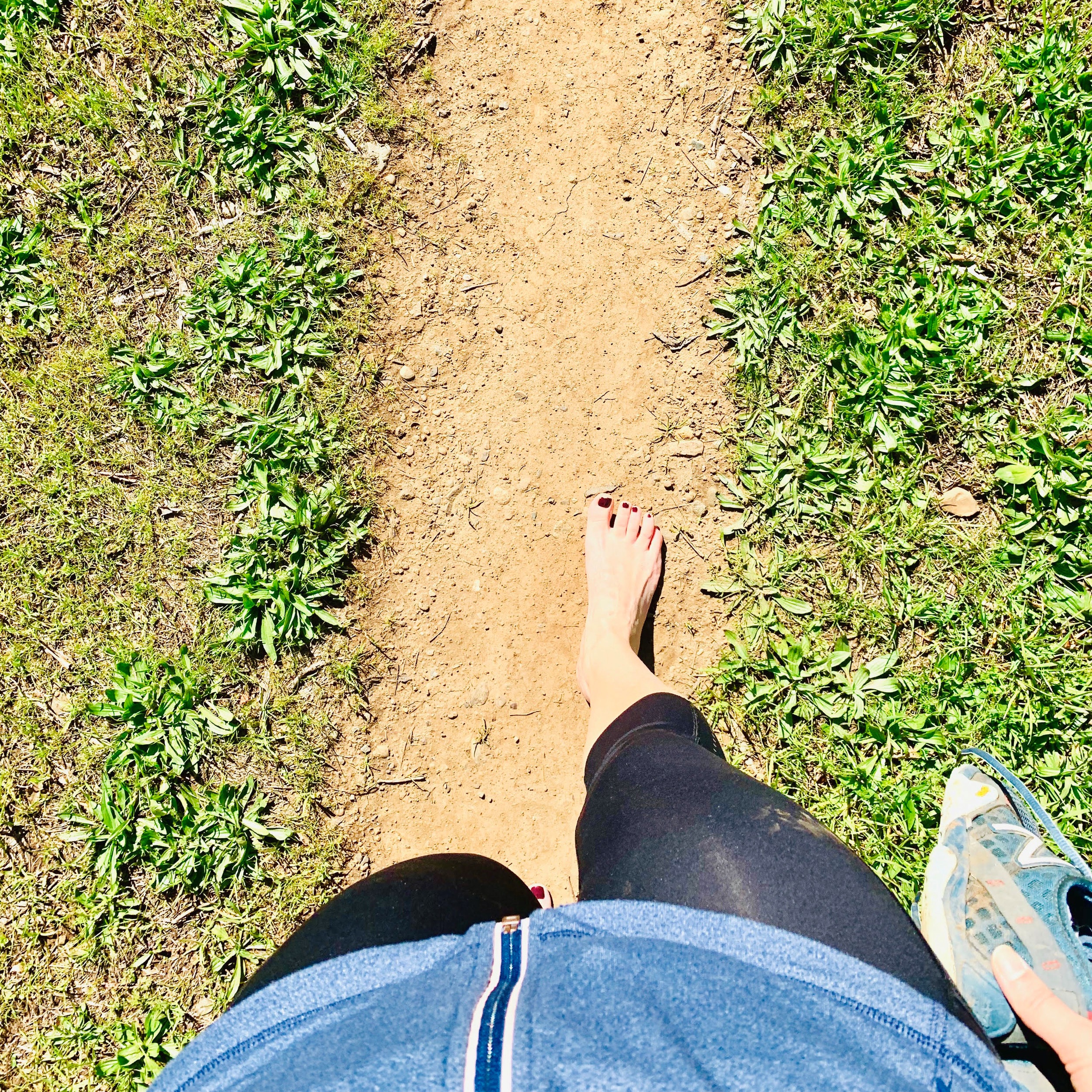 it only hurts on the foot that's down. The foot that's lifted is the one you want to focus on."

I recently heard an interview with Deepak Chopra. He describe his experience in joining a monastery in Thailand where he spent a month begging for his food and walking the streets barefoot. That exercise in itself is powerful one, but the part that stuck out for me was when he spoke of his feet and the conversation he had with his head monk who was half his age:
"How was it walking on the streets?"
"It hurts. Because I've never walked in the forest or in the streets without shoes."
"You know it only hurts on the foot that's down. The foot that's lifted is the one you want to focus on."
And my third realization was that earthing causes you to slow down. Which is exactly what we need at this moment in time during these mercury retrograde periods. When you step on a stone, the physical sensation that hits your foot moves up your leg faster than a single breath. Without your consciousness knowing, your brain will send signals to your feet to slow-your-roll. And when you look down, you will notice how your foot strike changes to accommodate the earth beneath you. This is your subconscious physically slowing your body down long enough to put you in a state of mindfulness. See....? You wouldn't have noticed the butterfly to your left had you not removed your shoes and socks.
This weeks. no, this months energy read is all about remaining grounded in love and compassion FOR OURSELVES first! This last winter full moon is scheduled to occur toward the end of the month on the 19th-21st which happens to coincide with the last few days of the mercury retrograde. This promises to bring an end to any confusion our uncomfortable experiences you may have been dealing with. As things begin to shift, you are asked to continue with your patience and continue focusing on LOVING YOURSELF, so you can share the love with others. Utilize this retrograde time to slow down and assess your own needs. How are you loving yourself? How are you showing up for yourself? How are you showing yourself compassion when you don't execute perfectly and with grace? Part of compassion is staying true to your needs, including your spiritual practice, while not neglecting other aspects, such as your basic needs. Having a strong spiritual practice is important, but you also need to make sure that your basic needs are met first. I recently heard that serving your own human basic needs is the most primal spiritual practice there is. If someone wants to have a spiritual practice, first run yourself through a quick checklist: Are you hydrated? Are you feeding yourself proper nutrition? Are you exercising? Are you getting enough rest?
The people who are most hellbent on enlightenment do not meet half of these basic needs. Without these needs being met, you are only seeking a higher truth because you don't like YOU. And it's apparent in the way you are taking care of yourself. There's nothing wrong with a spiritual practice, but a spiritual practice is the daily fulfillment of your basic needs being met FIRST. Once you get those basic needs checked off, maybe meditate a little bit. But if your meditating, or doing any kind of spiritual practice, in the avoidance of the denial of your basic needs, all your doing is making a new ego structure. How do you know you're in a new ego structure? You start participating in enlightened duality—telling others how and when they should be doing their own spiritual practice, or you find yourself being closed off to new and loving advice or ideas or thoughts that are being presented to you because you believe your knowledge is better (allowing your ego to enter back in).
So this week is about grounding yourself with loving compassion, and meeting those basic needs before you start floating off into the heavens trying to find enlightenment. There's no use in being so heavenly bound that you're no earthly good. Getting outside in nature is my most preferable method, but the weather is not that permitting right now. So what helps me to stay grounded when I can't get outside is to surround myself with items that help me ground and remain grounded. I recently found this brand at our local grocery store, and I'm kind of obsessed… I was a bit prejudice at first because they smell quite different in the bottle—almost off-putting. Once I started using them, I became addicted to the feelings these scents evoked. Every time I get whiffs of the Pine, Rosewood, and Cascade Forest, it transports me to feelings and memories of camping in the deep forest--waking up to the natural light, sounds and scents that are unmolested by city life. I've been wearing them to the office, during meditations, and in my hot yoga practice.
On Deepak's last day of his monk experience his head monk imparted him with this final lesson:
…time in your life is NOW.
…person in your life is the one you're looking at right NOW.
…thing you can do in your life is what your doing NOW.
The best way to prepare for the future is to be totally present NOW.
Forget all your learning, just remember that NOW is the moment that never ends. Take a moment to notice where your mind was when you started reading this? Where is it now?